PATINA ON BRONZE
The patina is the final touch of the bronze sculpture. I prefer to do this step myself and to keep it translucent enough to let the natural characteristics of the metal show through. I achieve this look with just one chemical, liver of sulphur. This comes in two forms - rock or gel. The rock form has a short shelf life so I prefer the gel which can be purchased at jewelry supply shops or online.

Add a few drops of the liver of sulfur gel into a little water. The bronze is heated until a drop of water will sizzle on the surface. I use a heat gun but a gas torch is more efficient for larger bronzes. Liver of Sulfur solution is brushed onto the surface until it darkens.

Plaster is not highly toxic but can be a health hazard if inhaled repeatedly. Be safe, wear a mask. Plaster is sifted into approximately 70 degree water until it stops sinking and forms islands in the water. The plaster then sits undisturbed to saturate for 4 minutes. Mixing by hand for a full 3 minutes makes a smooth strong cast.

Submerging the bronze in water stops the chemical reaction. Next, the patina is scrubbed back with an abrasive pad (such as 3M or SOS) to reveal the highlights. Repeat several times with additional layers until desired depth of color are achieved. I usually do three layers.

The final step is to seal the metal with carnuba wax. This protects the bronze from further oxidation and preserves the patina. It's very important that all moisture is dried out of the metal before it is waxed.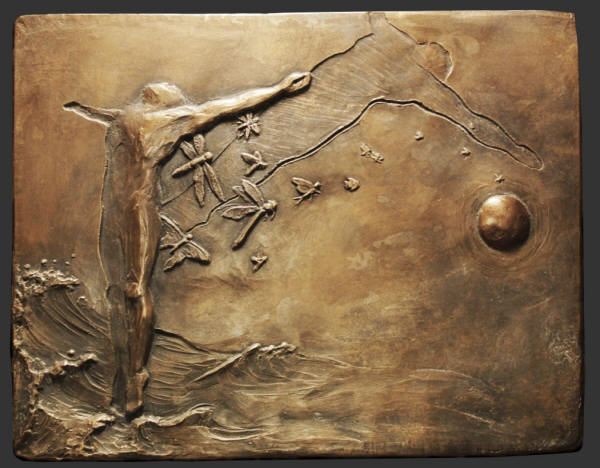 ---
© Heidi Wastweet 2017